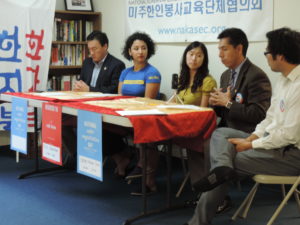 For Immediate Release
September 21, 2016
Contact: Dong Yoon Kim, [email protected], 703-256-2208
NAKASEC, VACOLAO, and Community Leaders Remind Eligible Virginians to Register to Vote on NVRD
ANNANDALE, VA — The National Korean American Service & Education Consortium (NAKASEC) called on Northern Virginia's immigrant community to register to vote on Tuesday, September 27th as a part of National Voter Registration Day (NVRD).  As the November election will be critical to all of our families and communities, it is especially important that our communities of color are represented and our concerns are uplifted to elected officials.  This year, NAKASEC is collaborating with the Virginia Coalition of Latino Organizations (VACOLAO), National Latina Institute for Reproductive Health's Virginia Latina Advocacy Network (NLIRH VA LAN), National Partnership for New Americans (NPNA) as well as our affiliates the Korean Resource Center and Korean American Resource & Cultural Center to register immigrant voters, particularly targeting low-income and first-time voters.
In Virginia, the deadline to register to vote is October 17th, and our goal is to register 100 Asian American and Pacific Islander (AAPI) voters on NVRD.  Please click here for the list of locations we will register voters.  Upon registering to vote, community members may also apply for an an absentee ballot if they will not be able to make it to the polls on Election Day.  Voters must request a mail-in absentee ballot by November 1st or in-person by November 5th.  Absentee ballot applications and assistance will be available at each of our voter registration sites.  This year NAKASEC is also encouraging Virginia voters to vote "no" on ballot question 1, which would reform the state constitution to weaken workers' rights if passed.  Virginia Delegate Mark Keam encouraged community members to register to vote to increase the voting power of AAPI communities and amplify our voices on issues such as ballot question 1.
Dong Yoon Kim, Program Director at NAKASEC, said: "We are mobilizing community members along with our local and national partners on NVRD to raise our voices for justice, civil rights, and immigrant rights.  We have the power to decide our community's future on election day by welcoming community members who are low-income, people of color, and disenfranchised to register to vote in 2016.  We ask community members to register to vote, volunteer, and mobilize our community to continue our movement forward for justice.
Margie Del Castillo, Associate Director of Community Mobilization at NLIRH VA LAN, said: "Election season is an especially important time for our communities to get involved in the process by registering to vote and making sure their voices are heard.  There are many ways we can all get involved in the process, regardless of our citizenship status or whether we can vote.  By getting our entire community engaged in the election process, we can make a difference for our families."
"It is vital for members of our community to register by the October 17th deadline and vote on November 8th" said Edgar Aranda-Yanoc, the Chair of the Virginia Coalition of Latino Organizations (VACOLAO). "Virginia is a swing state this election and the Latino vote could prove a decisive factor this year illustrating to both parties that they must consider our concerns during the legislative process including finally fixing our broken immigration system and passing comprehensive immigration reform."
###
For NAKASEC photos and video, please follow us on Facebook (link) and Twitter (@nakasec)
Founded in 1994, the National Korean American Service & Education Consortium (NAKASEC)'s mission is to organize Korean and Asian Americans to achieve social, economic, and racial justice.  NAKASEC maintains offices in Annandale, Virginia and Los Angeles, California. NAKASEC has affiliates in Chicago (Korean American Resource & Cultural Center) and Los Angeles and Orange County (Korean Resource Center)