Date/Time
Date(s) - 11/09/2021 - 11/10/2021
9:00 am - 1:15 pm
Location
Virtual
Category(ies)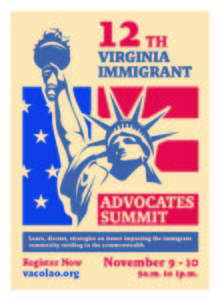 12th Virginia Immigrant Advocates Summit (Virtual)
Registration and program 
You are invited to the 12th Virginia Immigrant Advocates Summit! Due to the ongoing pandemic, this year's event will be held on TUESDAY, November 9th and WEDNESDAY November 10th and will be a virtual summit that will allow attendees to participate safely while also engaging with speakers on topics important for immigrant communities in Virginia. 
Attendees will learn about and discuss the implementation of important reforms impacting immigrants passed during the 2021 Virginia General Assembly such as new protections against ICE access of personal information contained in the Virginia DMV's databases and  the expansion of financial aid for all students regardless of their legal status.  The General Assembly also extended Medicaid/FAMIS MOMS prenatal coverage to undocumented women who meet all other non-immigration eligibility criteria. Looking forward, we will also discuss current policy advocacy goals such as criminal justice reform, ICE detention in Virginia issues, and federal advocacy efforts to pass a pathway to citizenship for essential workers, TPS holders, DREAMers and farm workers via budget reconciliation, among other issues. 
Please find below a list of the panels that will be presented and the full program at the link. Please note that the program may be updated as necessary. according to changes that may arise:  
PROGRAM – shorturl.at/zJOX2 
PANELS 
1) Virginia Legislative Update from the 2021 General Assembly, and upcoming 2022 General Assembly, 
2) Implementation of Virginia's New Driver Privilege Card law, 
3)- Racial Inequities in the U.S. Immigration Laws,
4) Virginia and the Federal Landscape of Immigration, and 
4) Abolishing Immigration Detention in Virginia and Beyond, 6: Race, Ethnicity and Criminal Justice.  
DATE: Tuesday and Wednesday, November 9th and 10th  2021 
TIME: 9:00am to 1:10pm each day.  
WHERE:  Virtual
REGISTRATION: You can proceed with your registration at this link:  https://12thvirginiaimmigrantsummit.eventbrite.com
COST: $ 10.00 plus processing fee. 
SCHOLARSHIPS: Limited scholarship assistance is available to cover the event registration fee. To apply for a scholarship, please proceed with your registration and choose "scholarship". Applications will be evaluated on a first-come first-serve basis. 
If you would like more information, please contact us at [email protected] or call 703-720-5604. 
ORGANIZED BY: ACLU People Power Fairfax, Centreville Immigration Forum (CIF), Congregation Action Network (CAN), Dar Al Hijrah Islamic Center, Drive Virginia Forward (DVF)  Dreamer Mothers In Action (DMIA), Edu-Futuro, Just Neighbors, Legal Aid Justice Center (LAJC),   Sin Barreras, Virginia Interfaith Center for Public Policy (VICPP), Virginia Coalition for Immigrant Rights (VACIR  and Virginia Coalition of Latino Organizations (VACOLAO),