Date/Time
Date(s) - 11/27/2018
9:00 am - 11:00 am
Location
Unitarian Universalist Church
Category(ies) No Categories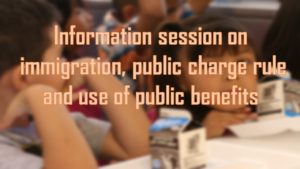 Information Session for Service Providers on Proposed Changes to Public Charge Rule and update on Immigration Issues 
WHAT: You are invited to a discussion on potential changes to the public charge rule and its impact on access to nutrition and healthcare programs.
On October 10th, DHS published a proposed rule change to the public charge determination made during immigration admittance proceedings. If enacted, the proposed rule change would expand the kinds of benefits deemed a public charge to include non-cash benefits such as Supplemental Nutrition Assistance Program (SNAP) and others.
This change would in practice force legal immigrants into a situation of choosing between feeding and providing healthcare for their families or preserving the ability to change to a more permanent status at some point in the future. These programs were designed to promote the health and welfare of children, the majority of whom are US citizens, and it is intolerable to jeopardize their lives in this way.
before the proposed rule was made public, news of the change has already had disastrous consequences for some legal immigrant families who are asking to be dropped from WIC, a federal nutrition program that provides parents of children including US citizens access to affordable formula, immunizations, and free health and nutrition classes. These programs were designed to help children and ensure their healthy development.
Come learn about the proposed rule change, the rule-making process and what you can do.
We will also provide an update on other immigration issues.
WHERE:  4444 Arlington Boulevard, Arlington 22204 (Unitarian Universalist Church of Arlington)
WHEN: Tuesday, November 27, 2018 from 9:00 am to 11:00 a.m.
If you have questions, please email us at vacolao@gmail.com or call us at 703-772-1555.
REGISTER HERE: https://goo.gl/forms/RPKuOmo3c2aMhykr2
Organized by Legal Aid Justice Center's Immigrant Advocacy Program and VACOLAO.