Date/Time
Date(s) - 11/02/2017
5:30 pm - 7:30 pm
Location
Virginia Cooperative Extension
Category(ies) No Categories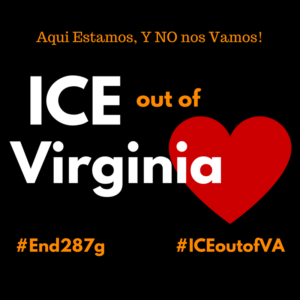 Community Strategy Meeting in Culpeper: Sheriff Jenkins application for 287(g) program
As many of you are now aware, Culpeper's Sheriff Jenkins has applied to join the Department of Homeland Security's (DHS) 287(g) program. As seen in Prince William County, the 287(g) program is very divisive and wasteful program that will likely cost tax payers millions of dollars and make the county less safe. It will erode the trust between police and the immigrant community. We also believe this program will create a chilling effect with the community and increase racial profiling.
See attachment for more information about the program generally.  On November 14th DHS will decide on currently pending applications for this program. The DHS Advisory Board has requested information or testimonials of abuse, mistreatment, or any specific instances which would demonstrate why the Culpeper Sheriff department should not be approved for this program.
We will be holding a meeting on Thursday Nov 2nd at the Culpeper County Library to discuss this issue and how the community can combat and oppose the Sheriff's application.
Please join us on Thursday November 2nd at 5:30pm a 101 South West Street in Culpeper