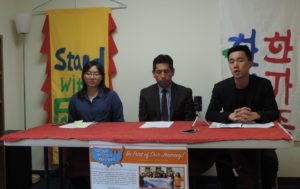 For Immediate Release , April 22, 2016. Contact: Dong Yoon Kim, dkim@nakasec.org, 703.256.2208
Undocumented Korean American Youth and Community Members speak out on Supreme Court of the United States Immigration Lawsuit
DACA recipient Ju Hong, DACA Expansion eligible Jong-Min You, and community leaders express their thoughts on the April 18th hearings on the Immigration Lawsuit
Annandale, VA- On Monday, April 18th, 2016 the Supreme Court of the United States, SCOTUS, held hearings on United States et al. vs. Texas et al., immigration lawsuit regarding President Obama's announcement regarding Deferred Action for Parents of Americans and Lawful Permanent Residents (DAPA) and expanded Deferred Action for Childhood Arrivals (DACA+).  These programs would provide relief to over 5.5 million immigrant community members, shielding them from deportations, providing a work permit, and providing limited travel.  Up to 6.1 million US citizen families will not have to live in fear of being separated from their family members.  Several impacted community members attended the hearings inside the Supreme Court and many impacted community members shared their stories in front of the Supreme Court.
The National Korean American Service & Education Consortium (NAKASEC), along with Virginia Coalition of Latino Organizations (VACOLAO), continues its efforts on educating community members on DACA+ and DAPA to be prepared if implementation starts.  Community members have been preparing for months for implementation of DACA Expansion and DAPA, and will continue to wait until the final decision is made.  A decision is expected to be released by June 30th and may come as quickly as early May.
To build strong support in the community for DACA Expansion and DAPA, on April 18th, NAKASEC, along with the Korean Resource Center (KRC), Korean American Resource & Cultural Center (KRCC), officially launched the Building Bridges: National AAPI DACA Video Tour featuring two documentaries, Dream Riders Across America & Halmoni (Grandmother) which focuses on AAPI communities' pain of family separation, dreams and hopes of undocumented immigrant youth to engage immigrant and the broader community to support immigrant rights and voices, working to ensure high enrollment of DACA Expansion and DAPA when it is implemented.
Community members and leaders, including Ju Hong, a Korean American DACA recipient, Jong Min You, Korean American DACA Expansion eligible community member, and Edgar Aranda-Yanoc, Chair of Virginia Coalition of Latino Organizations, spoke regarding the Supreme Court hearings and urged community members to be prepared and to continue its advocacy efforts raising immigrant voices for 2016.
"DACA has allowed me to travel back to South Korea to reunite with my ailing grandmother for the first time in over 13 years.  Imagine what DAPA and expanded DACA could do for the millions of families and community members who would benefit from these programs.  Throughout the National AAPI DACA Video Tour, we encourage AAPI communities to share a personalized sign with messages of support for DACA/DAPA," said Ju Hong, Korean American DACA recipient and National AAPI DACA Collaborative Coordinator.
"I was very fortunate to attend the Supreme Court hearing on DACA/DAPA.  I hope the Justices rule in our favor so that I can finally attend law school and be a great judge myself.  And I hope that the Korean and Asian community continues to fight, not just for DACA/DAPA, but for legislation.  I hope for Immigration Reform with a pathway to Citizenship for All!" said Jong Min You, Korean American community member eligible for DACA Expansion.
"VACOLAO and allies have worked hard for the full implementation of DAPA and Expanded DACA programs since their announcement by the Obama administration over a year ago," said Edgar Aranda-Yanoc, Chair of the Virginia Coalition of Latino Organizations (VACOLAO).  "We continued to push in the months leading up to the April 18th oral arguments including our work on the Fasting Chain for DAPA, Immigrant Trail exhibition and Vigils.  We will continue our efforts to build awareness of both programs' importance for millions of hard working immigrant families while we wait for the Court's decision which should come sometime in June."
To view the full transcripts from the Supreme Court hearings, please visit here: http://www.supremecourt.gov/oral_arguments/argument_transcripts/15-674_h3dj.pdf
For more information about the Building Bridges: National AAPI DACA Video Tour, please visit www.dacavideotour.com